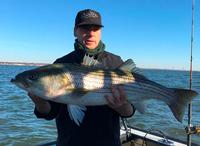 When the trips
could sail between
this autumn's unusually
brutal weather, striped bass
fishing was good for up to
30-pounders on the
Vitamin Sea, Keyport,
the latest report said.
Visit Vitamin Sea's
website.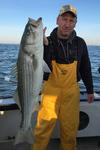 The fish were
jigged, trolled on rubber
shads and caught on
cast rubber shads.
Ava 47's jigged
off bottom were money,
because sand eels schooled.
Charters and open-boat
trips are fishing.
Visit Vitamin Sea's
website.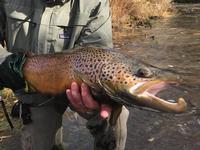 One of the big brown trout
that Jay Peck Guide Service
is landing this time of year
on rivers and creeks in
upstate New York.
See more about
Jay Peck.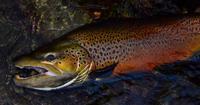 They're beautiful fish
and grow large, weighing
up to the teens, because
they summer in Lake Ontario.
They migrate to rivers and
creeks in fall to spend winter
there because forage is more
abundant in those waters
than in the lake in the
colder seasons. Jay's guides
are also fishing for steelheads,
and he'll return to that
angling once the trout
waters freeze. The steelheads
are mostly targeted on
Salmon River, a bigger river
that never completely freezes.
Visit Jay Peck
Guide Service's
website.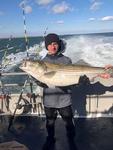 Striped bass fishing
on the party boat
Miss Barnegat Light
on the ocean last weekend.
Visit Miss Barnegat
Light's website.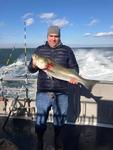 Trips are sailing
for them every Friday
through Sunday. A shorter
trip will also run for the
bass on Thanksgiving.
Visit Miss Barnegat
Light's website.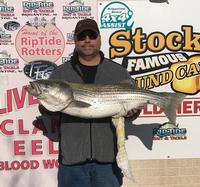 The season's first
striped bass from
Brigantine's surf, this 25-pound
40-incher, was weighed-in
Monday at Riptide
Bait & Tackle on the island.
The fish was clammed
on the North End, and
the angler won the $25
gift certificate to the store
for the first, and took the
lead in Riptide's Fall
surf-fishing derby.
Follow Riptide
on Facebook.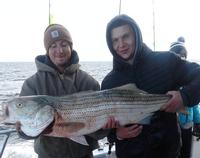 Jigging for striped bass,
loads, on the ocean erupted
Wednesday for the first
time this season on
vessels including the party
boat Golden Eagle, Belmar.
Trips were already catching
stripers other ways.
The Golden Eagle is
fishing for stripers daily.
Visit Golden Eagle's
website.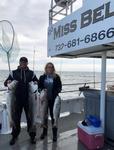 The party boat
Miss Belmar Princess
jumped all over the
jig fish, too. That vessel
is also sailing for
stripers daily.
Visit Miss Belmar Princess's
website.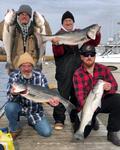 The anglers limited out
on striped bass and released
plenty of additional on Monday in
a break in weather with
Manicsportfishing, Keyport.
Knew they'd be hungry,
Manic said, and all different
sizes of the fish bit.
Charters and open-boat trips
are fishing.
Follow Manic
on Facebook.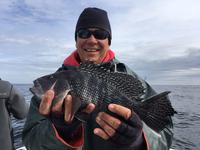 Jersey Cape
Guide Service, Sea Isle City,
took a run at sea bass
Monday, making a longer trek
from shore. The fishing was
great, Jersey Cape reported.
Visit Jersey Cape
Guide Service's website.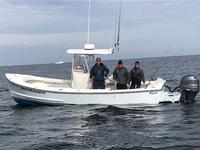 Pro tip, Jersey Cape said:
Clams catch sea bass well.
But to improve the
keeper ratio, fish a
jig tipped with Gulp
on very light line.
Click the photo to
enlarge it and see the
long, light rods.
In other news, although
some places in South Jersey
reported big, migrating
striped bass, Jersey Cape
was seeing none yet.
Any time, though.
Any time. And Jersey Cape
will be all over them.
Visit Jersey Cape
Guide Service's website.