Wonder whether mahi mahi
remained during all the
stormy weather into
mid-September? They sure did.
Manicsportfishing, Keyport, loaded
up on them, small ones,
in 100 to 200 feet of
water Sunday on livelined
peanut bunker and cast
swim shads. Bigger were
heard about to the southeast
aboard that day, but were
too far away.
Follow Manic
on Facebook.

Fluking was a little
better Monday on the
ocean, Parker Pete's Fishing
Charters, Belmar, reported.
A trip aboard
that day picked a few
good-sized to just
under 8 pounds. The boat
would be weathered
out the next day,
once again.
Visit Parker Pete's
Fishing Charters'
website.

Pompano, lots, schooled
Brigantine's surf a while now,
Riptide Bait & Tackle
in the town reported Monday.
The fish are reportedly
good-eating, the store said,
and a bucket of them
could be caught in one
throw of a castnet.
Or the fish could be hooked
on small pieces of bait.
Follow Riptide
on Facebook.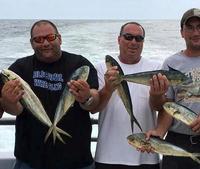 An inshore exotics trip
pasted mahi mahi, including
these, 25 miles from shore
on the party boat
Gambler,
Point Pleasant Beach,
on Monday.
Visit Gambler's
website.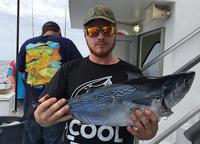 False albacore, including this one,
bonito, bluefish and mackerel
were also reeled in.
The species of
mackerel wasn't reported.
A similar trip is slated
for Sunday that will run
for bonito, albies and blues.
Visit Gambler's
website.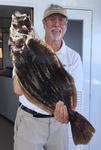 An 11-pound 3-ounce fluke,
a whopper,
the biggest this year so far,
on the party boat Atlantic Star,
Atlantic Highlands, last weekend
on Saturday. Trips were going
to continue fluking twice daily
through this Saturday, the final
day of fluke season.
Visit Atlantic Star's
website.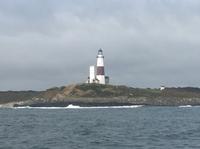 Annual traveling charters
to Montauk, N.Y., began
last weekend that fish
the migrations of striped
bass, blues and false albacore
with Jersey Cape Guide Service,
Sea Isle City, N.J.
Visit Jersey Cape's
Traveling Charters
Webpage.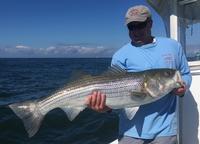 The fishing
angled a bunch
of stripers to 44 inches,
bluefish, sea bass
and porgies
on two trips that
Saturday and Sunday.
Visit Jersey Cape's
Traveling Charters
Webpage.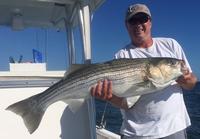 Another one of the stripers.
The charters are offered
until mid-October.
Visit Jersey Cape's
Traveling Charters
Webpage.