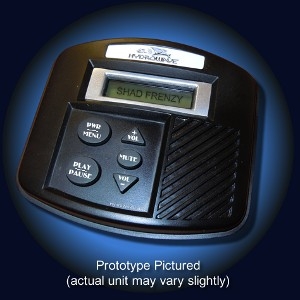 You hadn't been hungry.
But now you hear the dinnerware clanking as
the table is set in the
nearby dining room.
Next you feel others
walking toward the
dining room table.
Mmm, you think,
I'm ready to eat.
Funny how your
appetite can be
triggered.
Then how do you think a largemouth bass feels after hearing a school
of shad busting around the waters?
The same: hungry.
The makers of the HydroWave, who include professional bass anglers, knew this.
They set out to create an electronic device to imitate the sound of baitfish and fish-feeding activities to make the bucketmouths bite for anglers.
Using electronics to create sounds that make fish chomp has been talked about for years, the company says.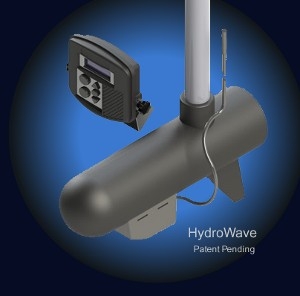 But the HydroWave
does more.
It delivers Tactile
Sound Transmissions.
Tactile sounds can be
felt as well as heard.
For a sound to seem natural to fish, all the elements, both sound
and feel, are necessary, the company says.
That's because fish "hear" through a combination of ears and the lateral line,
it says.
So the HydroWave features Vibration Reactive Technology and Lateral Reactive Technology that's meant to emit a natural combo of sound and feel.
The HydroWave is made to be simple to use.
It operates with only five buttons to control just a few selectable functions.
Those include powering on and off; picking a pattern to play,
like Shad Frenzy; selecting duration; and adjusting the volume.

Most electronics feature way more options than anglers find handy,
the company says.
The control unit, measuring 4 inches by 4 ½ inches by 1 ½ inches,
can be mounted easily in the bow area with a bracket or Velcro.
An optional transom mount is available.
The underwater speaker mounts on the trolling motor's lower unit.
The only wires involved are the speaker wires and the power cord.
The boat's 12-volt battery powers the HydroWave.
The HydroWave was debuted at the 2011 Bassmaster Classic in February and was set to be on the market by late May.
Pre-orders were being accepted.
For more info, visit the HydroWave Web site.