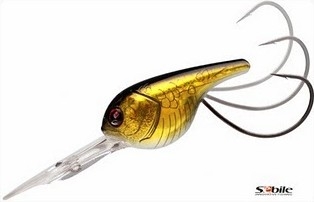 Crank baits, or hard lures that imitate baitfish that are built to be cranked with the reel handle to swim through the waters, catch great.
Until weeds begin to choke the waters, like during the warm season.
So weedless lures,
like rubber baits that bury the hook
until a fish bites, then become popular.
But if you could swim a crank bait through the weeds then,
you could catch on the hard bait.
Now you can.
Sebile's D&S Crank Bait is built to be snagless.
When the D&S is retrieved, the hook's point stays inline with the lure's tail, making the crank bait weedless.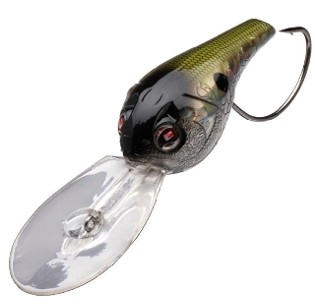 When the fish bites,
the hook moves upward, so the point hooks
the catch.
The floating,
2-3/4-inch, 7/8-ounce lure, featuring high-pitched rattles in the tail, is built with a deep-running lip, swimming the lure down 1 to 2 feet.
It comes in the
colors Fire Tiger Gold, Hot Lime, Natural Tilapia Red, Natural Shiner, Blue Althea, and
Natural Golden Shiner.
The lure is recommended for bass, walleyes, striped bass, redfish, speckled trout, snook, pike and other predators.
Was a time when another type of lure had to be fished for those species during the weedy season.
Not anymore.
For more info, visit the Sebile D&S Crank Bait Web page.