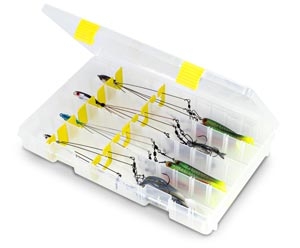 Stowing away an umbrella, after ducking indoors from a rainstorm, can be awkward.
Stowing an umbrella rig in
a tackle box is similar.
Awkward.
So Plano came up with
the Alabama Rig Box.
The box neatly stores Alabama rigs, for largemouth bass fishing, or other umbrella rigs.
Up to four of the rigs fit in the box, and the box fits many of the tackle systems built to hold several of these 3700 series Plano StowAway boxes at once .
Dividers in the box can also be arranged to hold other tackle like
plastic baits.
For more info, visit Plano's Web site.