Computer technology keeps marching along.
Fingers do the walking lately.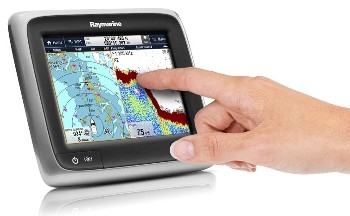 Touch-screen technology, intuitive and easier to use, overtook phones
then computing in recent years.
It's overtaking
marine
electronics now.
Raymarine is
helping lead the way.
The company has introduced the a-Series Touchscreens.
Two are available.
The a65 is a chart plotter, and the a67 is a chart plotter and
sonar or fish finder.
Lots of features are included, like super-bright screens,
ready-to-navigate charts and more.
Many options are available, including: 3D and aerial-photo charts; networking with other electronics; fuel management; audio and camera control by syncing with other electronics; steering-wheel remote for the most frequently used functions while underway; and more.
Raymarine can talk the talk about leading the way in marine electronics.
That's because it's walking the walk, this time with fingers.
For details, visit Raymarine's Web site.