Anglers can't often tilefish.

That's partly why it's cool.
They can't sail to depths like 400 to 1,000 feet, along the Continental Shelf, every day, for the fishing.
That takes a serious boat with a knowledgeable crew.
It also takes specialized tackle.
The Reel Seat, the tackle shop in Brielle, N.J., has introduced a rod for tilefishing that might be the first available off-the-rack.
The shop's owner, Dave Arbeitman, a party-boat tilefiisher, designed the rod in three lengths: 7 feet, 7 ½ feet and 8 feet.
The pole, graphite with Fuji hardware, is built to be sensitive, much more than fiberglass, to feel a bite.
Yet the rod can handle fishing-weights to 3 pounds, or, in a pinch, heavier.
A sensitive but stout rod is particularly required for the fishing.
When an angler feels a bite, not easy in the deep on the drifted boat, the hook must be set, and the fish must be cranked in, immediately.

Otherwise tilefish can break off, because they can dart into holes they burrow into the clay bottom.
The 7-foot rod includes a gimble for a belt or a rod holder.
That rod and the
7-1/2-footer were built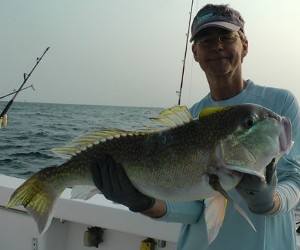 for either party boats
or smaller boats.
The 8-footer was built for party boats.
Finally, a rod that's
custom-built for tilefish,
available off-the-rack.
Now that's cool.
For more info, visit
The Reel Seat's Web site.