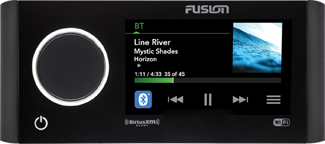 You pick up for the day and set a course for home port.
This is the time when you begin to appreciate the fishing trip.
Nothing to do but think, while you wait for the engines to motor you back.
What you think is that you might like to rock some tunes.
You've got that covered in a great way.
Because Fusion's Apollo boat stereo is installed.
This is a technically superior listening experience, the company says.
It's also the world's first touchscreen marine stereo, it says.
You can do things like stream music from your favorite apps, and listen to music from AM/FM radio to online broadcasts like from SiriusXM.
You do that using your Apple device like an iPhone or iPod.
The stereo is meant to be simple to use and intuitive.
It can also synch music to play at different locations throughout the boat wirelessly because of a system named PartyBus.
Two different models of the stereo are available, and each is built for the harsh marine environment.
The engineering and design are like none ever seen before in the industry, and is setting the standard by which all others will be shaped, the company says.
It rocks!

For details about the Apollo stereo, visit Fusion's website.