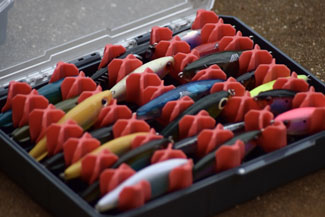 Tackle boxes pretty much caused tangled hooks and chipped paint on lures or even made finding a lure difficult.
That's why Gruv Fishing was started, the company says.
Gruv, founded not long ago in the winter of 2016, wanted to create a better way.
The company's Hard Bait Box is a perfect example, it says.
The box stores hard lures individually with "anchors."
Those anchors are soft and flexible, made from silicon, so they store lures with different sizes and shapes.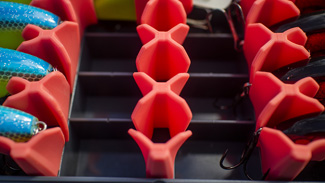 This also keeps the lures from tangling, and protects them from chips and other damage.
A clear lid lets you see what lures are inside the box.
The plastic shell, a polycarbonate, offers durability that's "unparalleled," Gruv says.
A magnetic closure is strong without the drawbacks of a latch, it says.
Fourteen to 30 lures can be stored in the box, depending on size.
The company also makes innovative boxes for large and micro jigs.
Check out the Hard Bait Box on Gruv's website.