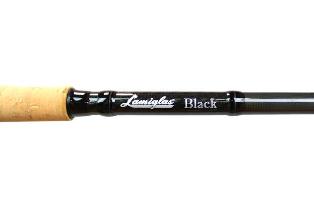 Lamiglas began in 1949 as a maker of fiberglass rod blanks.
Maybe that's where the "glas" in the name comes from.
The Washington State company eventually made rods, and hired Boeing engineers to pioneer designs never made before.
One of the latest rods is meant to be affordable but exciting.
The Black Series is for inshore saltwater.
Ten models of these graphite, one-piece rods are available: five for baitcasting reels, and five for spinning.
They're meant to cover every type of saltwater inshore fishing for catches from striped bass, fluke, blackfish, sea bass and false albacore to sea trout, redfish, snook, tarpon and more.
You'll find a model for every type of striper fishing, like casting plugs, livelining eels, fishing other live bait, chunking and jigging, the company says.
The rods range from 6 feet 11 inches to 7 feet 6 inches, and medium-light action to extra-heavy.
Features include cork handles, Fuji reel seats and guides, a high-gloss finish and a limited lifetime warranty.
The rods cost about $125, depending on the model.
A little more about Lamiglas, just because it's interesting.
An 11-foot, one-piece surf blank was the company's first blank, and the company has since been known for 1-piece, long rods, and known for surf poles, though Lamiglas now makes rods for other fishing, too.
Lamiglas has always focused on innovation, even if that means trying something new, the company says.
For more details about the Black Series, visit the Lamiglas website.