Sometimes I hear about a big largemouth bass socked on a livelined sunfish.
I wondered, is that legal?
No, its' not.
That's because gamefish are illegal to use for bait.
I telephoned law enforcement at Fish and Wildlife and asked.
But sunfish – a variety of species are called sunfish, including pumpkinseeds, bluegills and others – are natural forage for largemouths.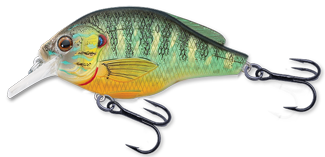 I guess that's why LiveTarget's sunfish lures are attractive to anglers.

Well, the stories about big bass caught on livelined sunnies is the reason, actually.

I'm being frank.
Largemouth bass themselves are actually a species of sunfish, but when people talk about sunfish, they usually mean pumpkinseeds.
The company makes a number of sunfish lures, all of them pumpkinseeds and bluegills, for different actions and to cover the water column from top to bottom.

LiveTarget is known for realistic-looking lures, and these are that.
They're a Swimbait, a Hollow Body, a Wakebait, a Rattlebait, a Crankbait Shallow Dive, a Crankbait Medium Dive and a Squarebill.
Each is available in different colors of pumpkinseeds and bluegills.
The Swimbait is the newest.