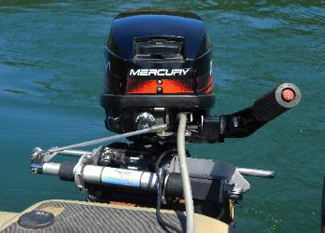 Electric trolling motors are popular.
Anglers often control the steering remotely through electronics.
But most trolling is done with an outboard motor, and maybe you haven't thought seriously whether a remote system is available for that.
The new Mackinaw Watercraft Steering is one.
The system mounts on the front of the outboard and is steered with a wireless remote that can be worn around the neck.
The steering is built to be strong, so it can handle conditions like rougher seas, and comes in several models.
For details, visit Mackinaw's website.
Also watch a video.