Certain fishing lures become the go-to at certain times in fishing.
The Madd Mantis Atasi is one right now.
The popper lure is not new but is popular for yellowfin tuna fishing.
That popularity just seems to grow.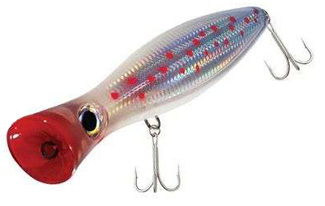 Why?
Price is one reason.
"You don't gotta spend fiddy bucks for a fish catcher," someone wrote about the lure on a fishing forum online.
The Atasi retails from $12 to $22, depending on size.
Yet the lure creates a loud pop, seriously splashes water, looks fairly attractive, is through-wired, has a weight-transfer system and casts well.
What more could you want?
An article in SaltWater Sportsman magazine said this Mantis was the best all-around popper for yellowfins.
That was an article last summer about top-water yellowfin fishing in the Mid-Atlantic.
Bluefins prefer stick baits, but for yellowfins, it's all about the popper, it said.
Whether that's true or not, the author thought so.
This popper comes in three sizes: a 5-inch, a 6 ½ and an 8.
That author wrote about the 6 ½.
Each size is available in different colors.
To see the poppers, visit Madd Mantis's website.