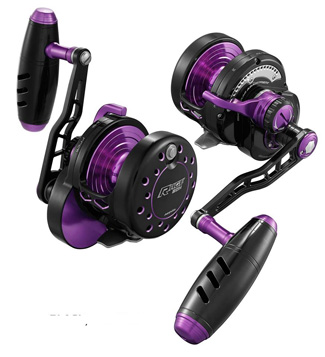 If a better reel for slow-pitch jigging exists, we haven't found it! a post said about Maxel's 60H on The Reel Seat's Facebook page.
The folks at that Brielle, N.J., tackle shop would know.
That's because the store is a local pioneer at stocking different jigs, rods, reels and lines for this angling that's becoming popular here for nearly any bottom fish like sea bass but also other catches.
The jigging originated in Japan and then Australia.
The 60H has begun to arrive in the United States, including at The Reel Seat, after being sold in Japan first.
A left-handed version named the 60HL is also available.
This single-speed reel, in either version, features a 5.3: 1 gear ratio for fast line retrieve, a longer handle and a T-bar for power, dual drag for more precise, gradual and smooth drag and "M-Power Torsion Mechanics" for improved cranking torque.
The reel holds 1,200 meters of PE2 braid, Maxel's literature says.
PE2 is a Japanese numbering system.
What's the equivalent in feet? someone asked in the Facebook post from The Reel Seat.
A customer filled the reel with 625 yards of Sufix 832, The Reel Seat answered.
What is slow-pitch jigging?
Here's an article from Sport Fishing Magazine that describes.
Maxel previously introduced a smaller Rage jigging reel named the 25H.
See a review of that reel here.
That's about all the info that's available currently.
The 60 was yet to be included on Maxel's website at press time.
Look for the reel to be included eventually.