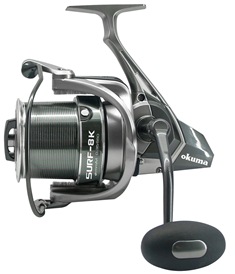 This reel is $99.
End of review!
Well, okay, here's some info.
Okuma's Surf 8K Reel, introduced this year, is built with a big, long, slowly-tapered spool with super-slow oscillation to cast a ton of line far in the surf.
The oscillation lays the line straighter and tighter to decrease friction during the cast.
One turn of the handle retrieves 42.6 inches of line!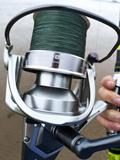 If you're going to cast far, you'll want that.
There are a lot of other features, like: corrosion-resistant graphite to stand up to saltwater; something called Cyclonic Flow Technology that keeps a lot of air around the rotor and spool to dry quickly, also minimizing corrosion; and two brushes on opposite sides of the rotor that prevent line from falling below the spool where it could get tangled.
But who cares? It's $99!
Kidding.
For more details about the Surf 8K, visit Okuma's website.
Also watch a video.