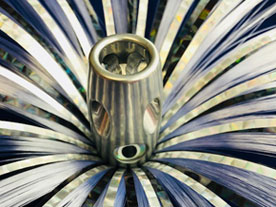 If you know about Spoon Fed Lures, that's probably because you know about the bunker spoons for striped bass fishing that the company makes.
Boaters will troll those spoons locally once again soon enough, during the fall migration of stripers.
But the company has also begun to make jets to troll for tuna.
Machined from high-quality brass, the company says, the jets are painted with a powder coating that resists chipping and eliminates peeling.
The jets – a lure with holes in a metal head that create a trail of bubbles – are being made in four types.
The Bally Jet, shown in the above photo, is a 6-inch, 3-ounce mylar-skirted lure meant to be fished with a ballyhoo on the hook.
The Smokeshow, in the photo below, is a large, 12- to 13-inch, 13-1/2-ounce rubber-skirted jet.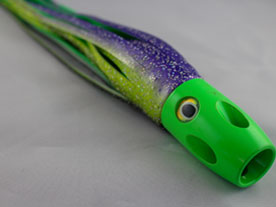 A smaller version, 8 to 9 inches long and 6 ½ ounces, is named the Smokeshow Jr.
The Bullet Jet is a big, rubber-skirted lure that's 14 to 15 inches long and 22 ounces.
The bunker spoons looked promising and then proved to catch stripers, so began to be popular.
These jets are looking promising, too.
If they're not available yet at your local tackle shop, keep a lookout.
Spoon Fed Lures are manufactured at a 108-year-old, fourth-generation company in Liberty Corner, New Jersey, that forms metal parts mostly for the defense and aerospace industries.
Spoon Fed Lures are made with the same expertise and engineering that goes into those products, the company says.
For more info and photos of the jets, visit the Spoon Fed Lures website.