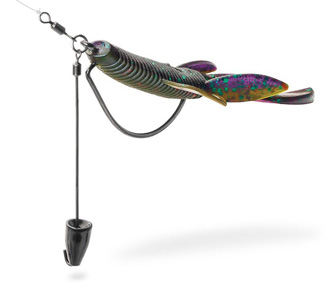 So many rigs were invented for largemouth bass fishing in my lifetime.
I guess that's because largemouth tournaments became popular.
When I was a kid, there was only the Carolina rig and the Texas rig, pretty much.
Then came wacky rigs, drop-shots, Ned rigs, umbrella rigs for bass, Neko rigs and I don't know what else.
Almost seems suprising that another could be introduced.
The Tokyo Rig, from the company VMC, the hook manufacturer, is new.
Bass fishing celebrity Mike Iaconelli helped VMC develop this rig after seeing anglers in Japan kick his butt at bass fishing with the rig.
The rig, for soft-plastic baits, is also called a punch-shot, because it can punch the bait through thick vegetation.
A wire leader that hangs a weight below the bait does that.
Maybe a drop-shot, a rig that looks similar, could punch through weeds, too, but the wire is stouter than the monofilament leader on a drop-shot.
The Tokyo Rig also does more than punch.
That wire leader presents the bait off the bottom better, because it won't collapse like monofilament.
The rig allows the bait to be free-swinging for better action.
The weight on the bottom can be better for hook-setting.
Sometimes a weight at the head of a bait, a more common location, can get in the way, but when a bass bites a Tokyo Rig, it bites all hook.
A variety of weights can be fished on the wire leader, and so can more than one weight, like maybe you want to attach two worm weights.
This is a totally new system, Iaconelli says, and can be pitched, flipped, cast, dragged or probably fished in other ways, too.

Other tackle is introduced all the time that fails to look promising.
This seems a keeper.
At press time, the Tokyo Rig was yet to be included on VMC's website.

Look for the rig to be included sometime.