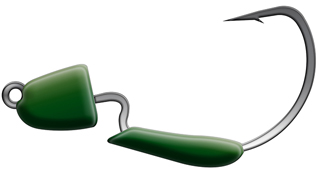 The original Ned rig, hugely popular, was subtly different from other jigheads.
The Ned, invented by fishing writer Ned Kehde, was a lead jighead meant to fish a rubber worm for smallmouth bass and largemouth bass.
A lot of those were already invented, yes?
The Ned was lighter than others, but the main difference was that the jighead made the worm stand upright from bottom, so the worm looked like it was grubbing for food.
A mushroom-shaped head and the placement of the eyelet, to tie on the line, did that.
The worm itself also helped.
It was short, helping the worm to stand upright.
But the worm was also made from a different type of rubber or soft-plastic that was more buoyant.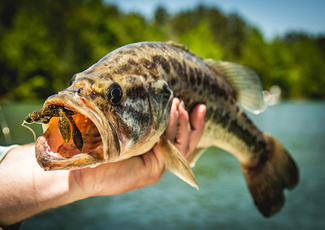 That made the worm stand upright, caused the worm to sink slowly, and also helped the worm shimmer after it hit bottom.
That shimmer was key to causing bass to bite.
Z-Man, a company known for Ned rigs, developed a soft-plastic named ElaZtech that was buoyant like that.
There were other attributes that also made Ned rigs different, including a head that fit perfectly flush on the worm, a barb that kept the worm aggressively snug against the head, and a weedless design.
This was all light-tackle fishing or, as bass anglers say, finesse fishing.
Still, there comes a time when you want a heavier Ned to fish thicker cover, deeper water or sloppier seas.
That time is now.
Z-Man's BulletZ Jighead will fish heavier cover, deeper water or rougher seas.
Slated to arrive in stores in August, the jighead, officially named the Finesse Bulletz Weedless Jighead, features a lead keel to make the lure heavier to accomplish this.
Available in 1/5-, 1/6-, 1/10- and 1/15-ounce weights, the BulletZ Jighead features bullet-shaped head, not the original mushroom-shape of a Ned.

The BulletZ jig is meant to fit perfectly with Z-Man's popular Ned baits, including the most popular, the TRD, which stands for "the real deal."
The BulletZ includes an extra-strong, the company says, size-1 VMC hook that's custom-made for the bait and has an extra-wide gap.

Z-Man, by the way, is also introducing a new Ned bait in July named the CrawZ, shown in the photo at right, that's a crawfish imitation, not just the original worm pattern.
Among other features, the CrawZ features the company's buoyant ElaZtech soft-plastic that helps the crawfish stand on bottom and wave its claws like a real mudbug.
The CrawZ fishes perfectly on the new BulletZ Jighead, but the company's other Ned baits, including the TRD, do, too, the company says.
At press time, the BulletZ Jighead and the CrawZ crawfish bait were yet to be included on Z-Man's website.
Look for them to be included eventually.
For more info currently about the jighead and bait, see this press release.