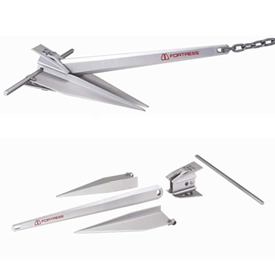 If you haven't experienced lightweight anchors, well, they exist.
Fortress's FX-7 might be the best introduced this year.
Made from a strong aluminum alloy instead of steel, it only weighs 4 pounds.
That's incredible.
Yet it reportedly holds as powerfully as a steel anchor weighing twice as much.
The FX-7, a traditional Danforth design with two sharp flukes and a long shank, is made for boats 16 to 27 feet long.
Competition sailors sometimes use lightweight anchors to keep weight down.
If you're an angler, maybe you want to use steel for your main anchor.
Or maybe not.
The FX-7 can be handy as an extra, because it's easy to store.
That's because of the light weight and because it stows flat and takes up minimal space.
Check out the FX-7 or the company's other anchors on Fortress's website.