It's a center console.
Yacht.
Yes, yacht.
HCB's 65-foot Estrella, introduced in September, is reportedly the world's largest center console.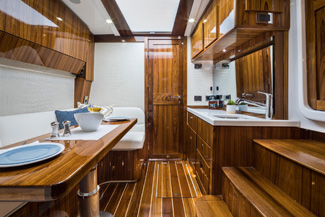 It's a fishing boat to boot.
So here's a brief rundown.
The vessel has all the comfort and styling of any sportfishing boat, and surpasses them in performance, says HCB, a boat-builder specializing in offshore center consoles from 39 feet to 65.
The Estrella is powered by five outboard engines and has a fuel capacity of 1,800 gallons for long-range trips.
The cabin is twice as large as other center consoles and includes a master stateroom.
The cockpit is huge, and the machine room is walk-in, so everything's within reach and out of the elements.
HCB's 53-footer used to be the world's largest center console.
We infrequently cover boats in these reviews.
But the Estrella is a boat.
For details, visit HCB Yachts' website.