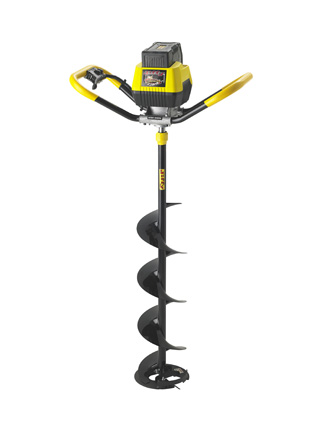 When you're ice fishing, you want to drill those holes in a jiffy.
Or maybe you want to drill them with a Jiffy.
The E6 Lightning Drill is the latest augur from the company Jiffy Ice Drills.
This is an electric augur, powered by a lithium, rechargeable battery, and is lightweight and available with 6-, 8-. 9- or 10-inch drills.
The battery's charge on the 6-inch is good for an average of 100 holes through 2 feet of ice.
The charge on the bigger drills is good for fewer, but still a fair number.
The augur is easy to start – simply depress a lever – has high torque and has a wide stance with handles and grips meant for comfort.
It even has a 2-year warranty on the motor and drill, and a 1-year warranty on the battery.
Ice-fishing's come a long ways in a short time from those days of the heavy, smoking, leaking, gas-powered augurs.
For details about the E6, visit Jiffy's website.