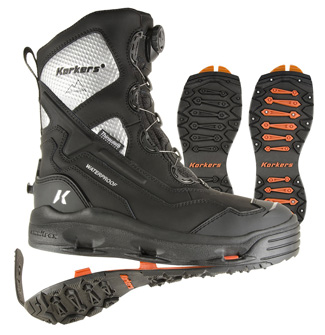 Korkers became synonymous for cleats that anglers use on footwear for traction on slippery surfaces like rocky stream beds or surf jetties.
There's hardly a more slippery surface than a frozen lake during fishing.
So the company Korkers, whose fishing cleats were originally made for wading, has also made cleated boots that can be used for ice-fishing.
The Polar Vortex 1200 Boots are some.
These boots can be worn for a number of winter uses.

But the company includes ice-fishing as one, because of the warmth they can provide in that often stationary sport.
Thinsulate insulation in the boots keeps your tootsies warm down to minus 60 degrees.
Another version, the Polar Vortex 600, works down to minus 40.
Korkers in recent years has focused on footwear with interchangeable cleats for different purposes.
The 1200's include a set of cleats for snow with rubber lugs and a set for ice with carbide studs, and in ice-fishing, you can encounter either of those surfaces.
Sometimes a funky mixture of both, too.
The boots are waterproof, supposedly durable and more.
Check them out on Korkers' website.