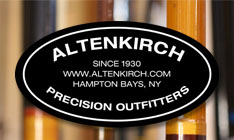 Sometimes seeing is believing.
If a picture is worth a thousand words, seeing an Altenkirch Rod,
or better yet fishing with one,
says everything.
But if you've got no Altenkirch Rod to see, take a look at a list of anglers who've owned the custom poles.
Altenkirch reportedly built rods for George W. Bush, Ernest Hemingway,
Zane Grey, Jackie Gleason, Babe Ruth and Roger Waters from Pink Floyd to name a few.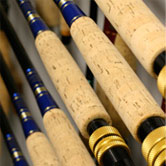 The Altenkirch company makes custom rods for saltwater fishing, big-game angling,
trolling, surf casting, freshwater fishing and fresh- and saltwater fly rodding.
Graphite, fiberglass and other types of blanks
are used to build the rods with a variety of options, including reel seats in graphite, aluminum, stainless or brass; grips and butts in cork, foam, exotic wood or aluminum; guides that are ceramic, stainless, titanium or rollers; and threading that's over, under, cap or grip.
After an initial discussion with Hank Altenkirch to set the specifications and price, and after the angler pays a deposit, work on the rod begins, and the pole is usually finished in two to four weeks.
A line of pre-made but hand-built rods is also available.
Charles Altenkirch founded the rod company, now named Altenkirch Precision Outfitters, in 1930.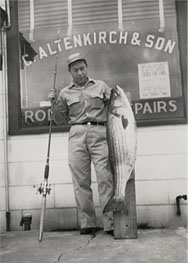 An avid fisherman who made his own
rods, he sold the family gravel business in
Bayside on Long Island, and opened an
auto repair garage in the Hamptons.
But word got out about his rods, and he started making them for others. His
weakfish pole, reportedly more sensitive
and flexible than most, supposedly
became legendary and in demand.
The business took off, and the rod-building company replaced the auto garage.
Charles expanded his line of rods to include poles for bay fishing, such as for porgies.
The hurricane of 1938 opened Shinnecock Inlet, and big-game boats started sailing from the area.
Altenkirch started producing offshore rods.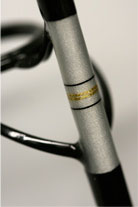 Charles' son Mickey eventually took over the business, and, changing with the times, replaced the bamboo blanks with fiberglass. Mickey's son Hank, the current owner, next became in charge, and added blanks that were made from graphite and other modern materials.
But don't take our word for it. Take a look at the rods, and you'll understand.
For more information, visit the
Altenkirch Precision Outfitters web site.