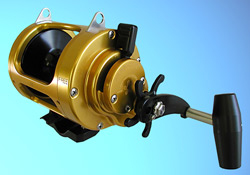 Don't you have enough to worry about when a big-game fish like a tuna sucker punches a bait and freight trains for the horizon?
You're holding the rod and reel for dear life, trying to convince the ornery 50- or 100-pounder that you, in fact, have the upper hand.
You don't want to mess around with shifting the reel gears back and forth between high and low as the fight ebbs and flows.
Tiburon's got your back.
The Tiburon Smart-Shift Big-Game Reel automatically shifts gears between high and low. If the fish pulls hard, the reel automatically shifts to low gear. If the bruiser puts up less resistance a moment, the reel automatically shifts to high gear.
The automatic shift can also help prevent the lack of tension on the fish that can occur when the angler has to manually shift gears on other reels. The chances of losing a fish decline.
Six models are available to handle lines from 8- to 80-pound test: three different versions of a 2/0-size reel with three different line capacities and three versions of a 3/0 reel for three line capacities.
For more information, visit the Tiburon Smart Shift Reel web page.