Versatility
A Good Dog Boat can be motored, rowed or paddled.
It can be outfitted as a solo fishing rig or as a fully geared, two-person fishing machine.
You can use the vessel on one trip as a light car-topper to fish a remote, pristine lake or on another trip fully loaded with swivel seats, rod holders, an electric or small gas motor and a depth finder to target more accessible waters.

A "quick-change" system of seats and accessories allows the boat to be quickly transformed for different fishing situations.
For example, lightweight, ash-framed, webbed seats can be easily replaced with bucket seats. One, two or three seats can be used.
Accessories that can be quickly added or removed include rod holders, downriggers, an anchor, a depth finder mount, cup holders, a motor, oar locks and more.
High Performance
This 10-1/2-footer is one lightweight vessel: only 65 pounds with three seats or 60 pounds with one seat.
A proprietary manufacturing process reportedly makes this Kevlar composite hull the lightest in its size.
A 45-inch beam allows stand-up casting.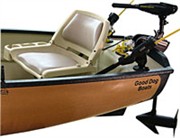 The hull is shaped for a minimum area that contacts the water to reduce drag and provide excellent gliding across the surface. A stem-to-stern keel is meant for exceptional tracking. The curvature of the hull is built to ride choppy water, more seaworthy than flat-bottomed boats or jon boats.
Many other characteristics of Good Dog Boats can also compare favorably to canoes, kayaks and jon boats.
A few include: increased stability from the wide beam compared to canoes and kayaks; substantially more open, easy access storage space than a kayak; and a quieter, Kevlar hull than an aluminum jon boat.
Good Dog Boats also include many other features, too many to list here.
The folks at Good Dog say the hull was developed after extensive research of different small boats built through history. The design of the hull is based on a boat that renowned builder Charles Lawton produced in the early 1900s.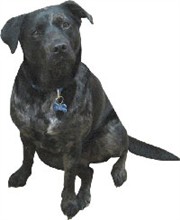 The Lawton 10, supposedly one of Lawton's most requested models, reportedly proved to be an extensively tested boat along the rugged New England Coast.
Good Dog Boats can only be ordered through the company.
A unique vessel for sure.
For more info, or to order the boat, visit the Good Dog Boats web site.