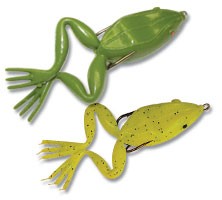 Original Weedless Frog


Snag Proof Lures says that it is the designer of the world's first weedless frog.
Harry Ehlers, founder of the company, was reportedly looking for a way to pull big bass from weedy farm ponds.

In the late 1950s he worked for the maker of Totes rubber boots and saw the boots being manufactured.

He soon developed a vision of a rubber, hollow-bodied, weedless frog lure.
He started working on the lure at nights in his kitchen, melting and pouring rubber to mold the frog, until he perfected the design: a soft, hollow-bodied, rubber frog with a double hook hugging the sides, allowing the lure to slide through weeds, lily pads and such without snagging.
Anglers could now access bodies of water where most gamefish hid and fed but where ordinary lures couldn't be fished. The soft, hollow body was meant to feel more natural to a fish, so the fish would actually turn the lure in its mouth and begin chewing, giving the angler more time to set the hook.
Reportedly ads for the new product were run in the classifieds in Field and Stream magazine, and soon enough orders were placed to make Snag Proof a full-time business that opened near Cincinnati.
The company eventually developed more lures, and today it offers 25 varieties of these weedless fish catchers. Harry's kids Harry Jr. and Connie now run Snag Proof Lures.

Snag Proof offers a variety of different frogs and also lures imitating a mess of critters, including mice, leeches, lizards, worms and crawfish.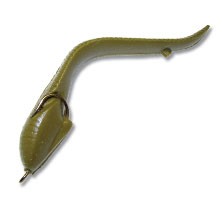 The Leech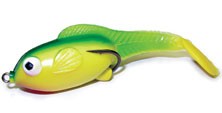 Wiggle Frog
Poppers, crank baits and buzz baits are also included, and the company continues to develop new lures each year.

* * *

For more info,
visit the Snag Proof Lures web site.

Or check out
the Snag Proof Lures catalog (pdf).